WELCOME TO LIB TECH HISTORY
Lib Tech co-founders Mike Olson and Pete Saari have been building dream boards and innovating technologies for forty + years. From Mike's groomer conquering finless deep side cut snowboards of the '80s that helped pave snowboarding's acceptance at ski areas to the launch of the Lib Tech brand and the meteoric rise of Jamie Lynn to the ground breaking discoveries of Magne-Traction® serrated edge technology and shortly thereafter the revolutionary Skate Banana model which ushered in a "Banana Age" of reversed cambers industry wide.
Our history of innovation continued with the realization of Mike's life long project to build a better surfboard with Lib Tech's proprietary "dang difficult to ding" ecoIMPACTO® construction.

Along this adventure we were joined by the once in a generation talent and vision of Travis Rice along with countless Rippers, artists, crafters and experiMENTALists all chasing their dreams through Mike and Pete's project - to build environmentally friendly dream boards for themselves and their friends.

Find out more about these and other major events in Lib Tech's history below.
1983
MIKE OLSON HAND BUILDS 5 FINNED SNOWBOARD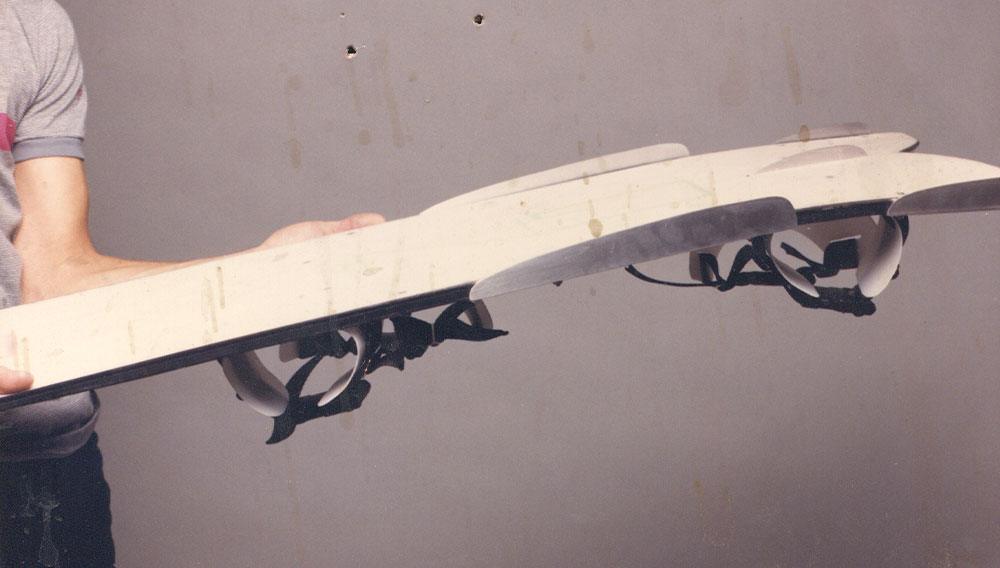 1983 Mike Olson makes his first prototype snowboard. Influenced by surfing it featured five fins, a wide floaty nose and a deep side cut. His early experimental design worked great in powder with an awesome surfy feeling but not at all on hard pack snow. Back to the drawing board!
---
1985
MIKE OLSON PIONEERS DEEP SIDECUT SNOWBOARDS
Mike creates his first finless snowboard design (through our Mervin family big brother Gnu!) keeping with the wide nose and deep side cuts. Pete and Mike test the board experiencing deep carved turns in the resort for the first time. The birth of snowboarding on hard pack!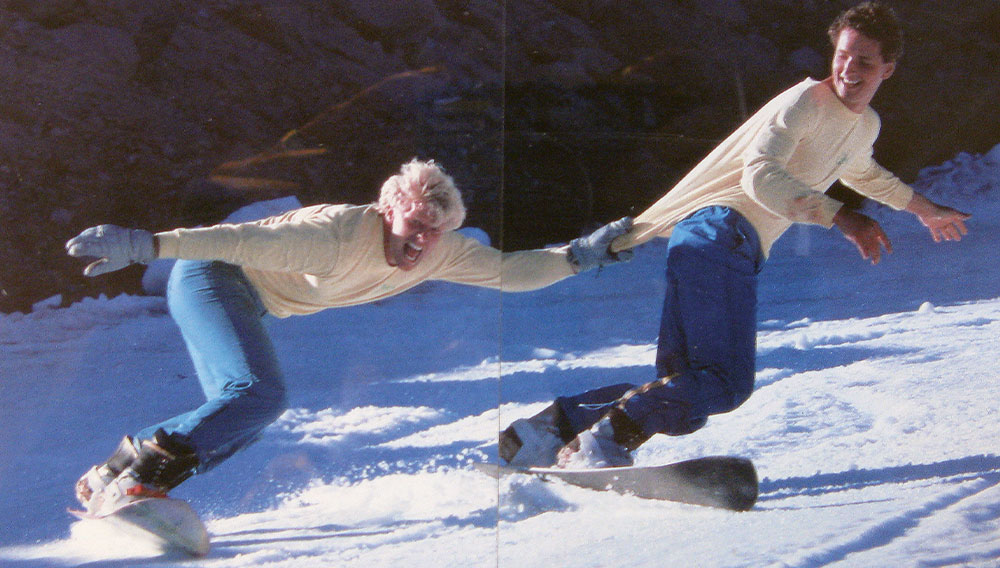 ---
1986
THE FIRST LIB TECH BOARD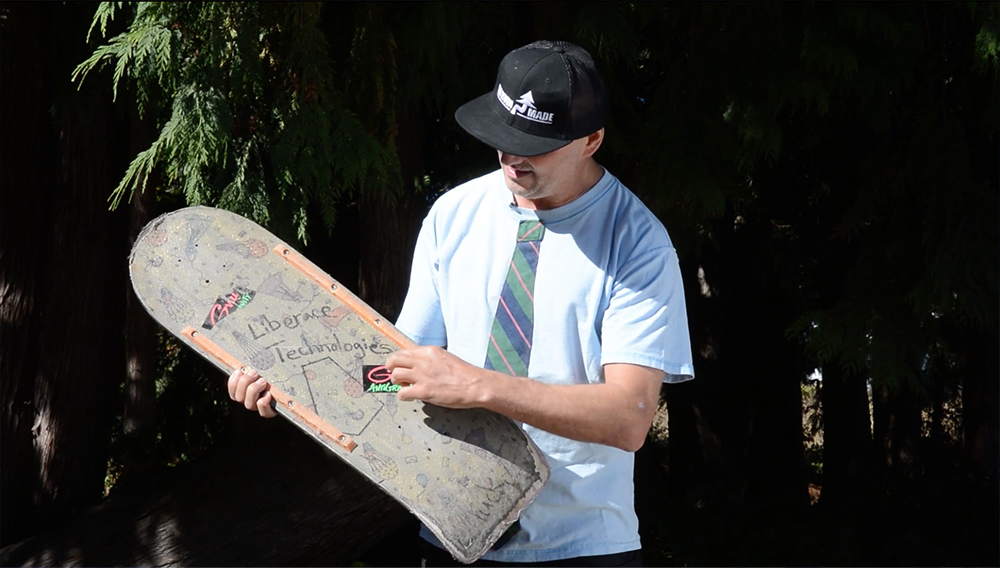 The very first Lib Tech was a skateboard! On the constant hunt for new materials Mike Olson had scored some shiny aerospace fabrics at a Boeing surplus sale. He made a futuristic skateboard that didn't turn out quite how he planned, but it did shimmer and shine like one of Liberace's jackets. So he wrote "Liberace Technologies" on it, laughed and set it aside. This name would come back as would our passion for strong high performance skateboards.
1990
LIB TECH OFFICIALLY LAUNCHES
Mike and Pete needed to temporarily pivot from the Gnu brand name. While brainstorming a new name they saw the sparkly skateboard Mike had made a few years earlier with the words "Liberace Technologies" written on it. It made them laugh and that was enough…Lib Tech was born.
In an irreverent move aimed at the neon ski vibes currently driving snowboard design the first Lib Tech line featured tip to tail skeleton graphics on every model and high kicked noses and tails for skateboard inspired snowboarding.
1990
KRIS JAMIESON AND MATT CUMMINS, THE ORIGINAL LIB TECH RIPPERS
From the beginning Lib Tech has been heavily influenced by our amazing team of Rippers. This all started with Matt Cummins and Kris Jamieson two skate influenced NW rulers that made the switch from Gnu to help Lib Tech launch. To this day Kris is a devoted Skunk Ape enthusiast and Matt MC Cummins still has a Lib Tech Pro Model, the Way Finder ll in our 23/24 line, the longest running pro model in snowboard history!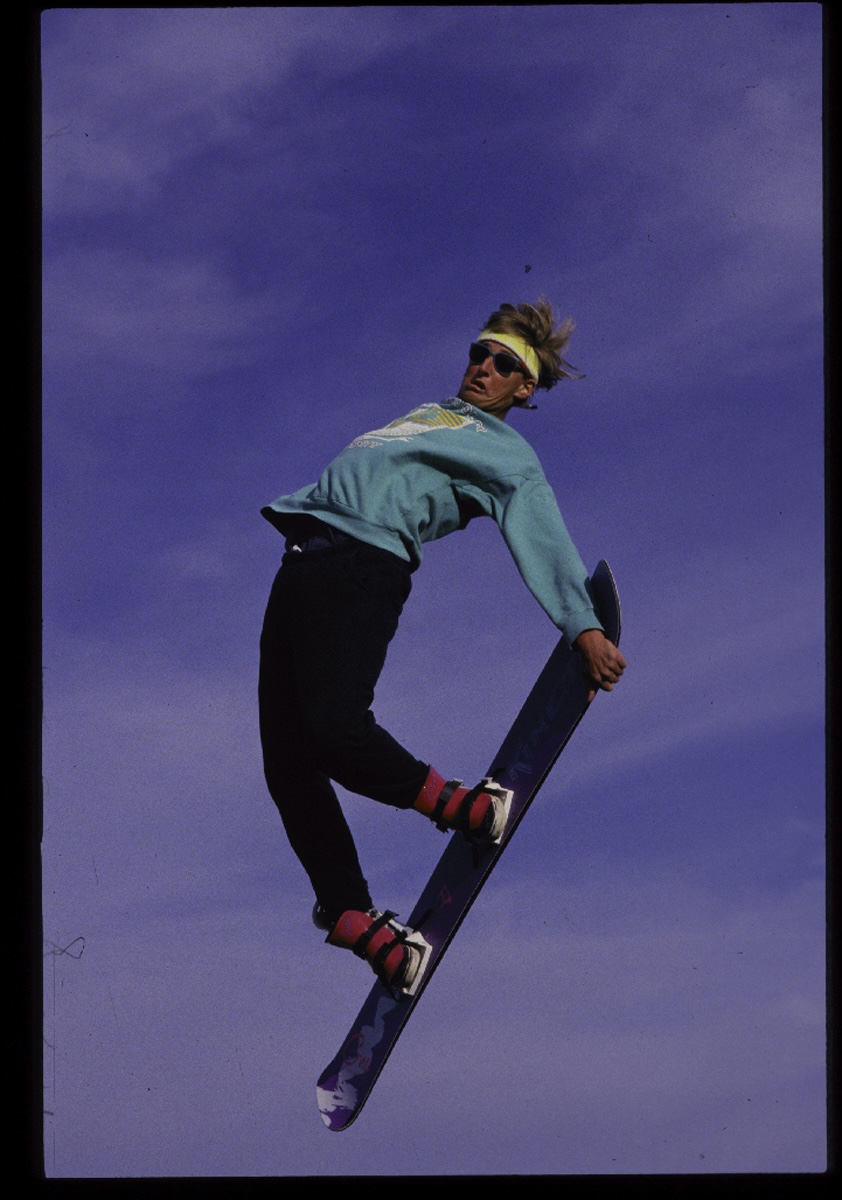 Jaymo knows how to tweak!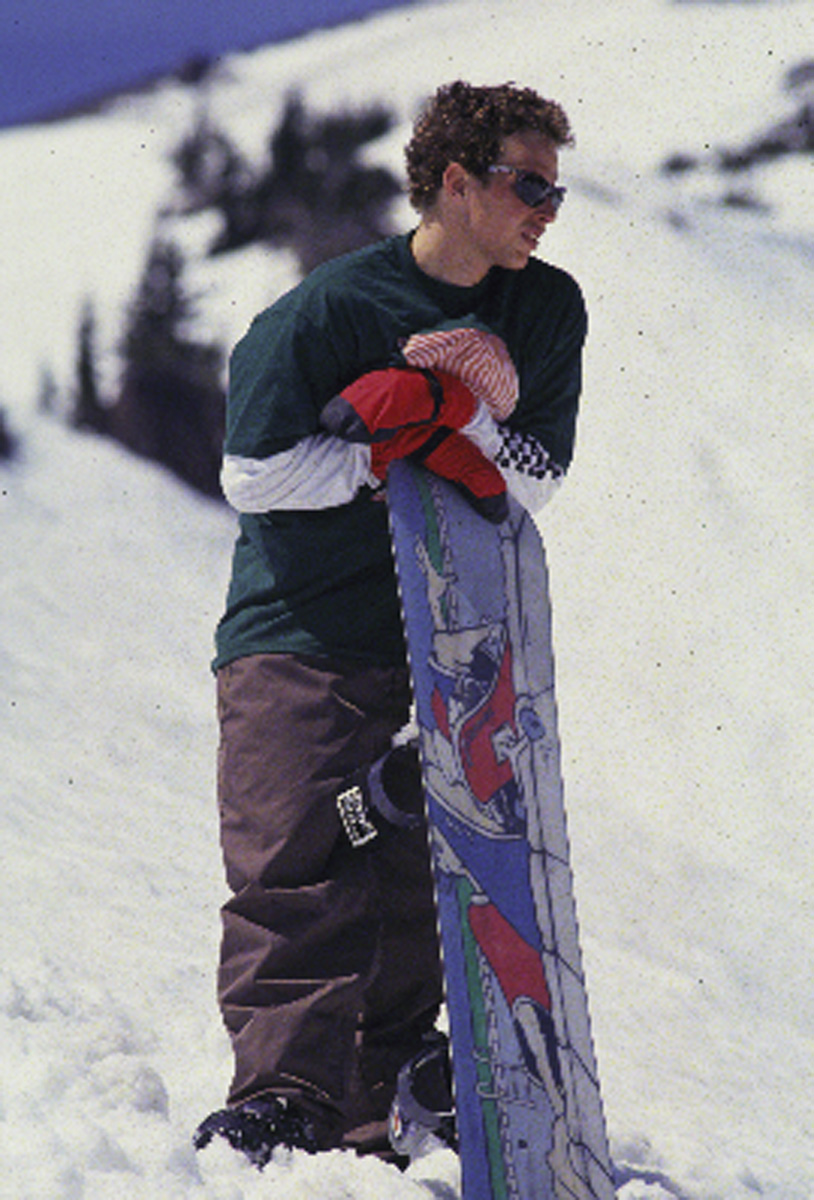 MC with his iconic pool skater graphic. Check out 25 years of Matt's history with us in the video below!
1993
JAMIE LYNN BECOMES PART OF THE FAMILY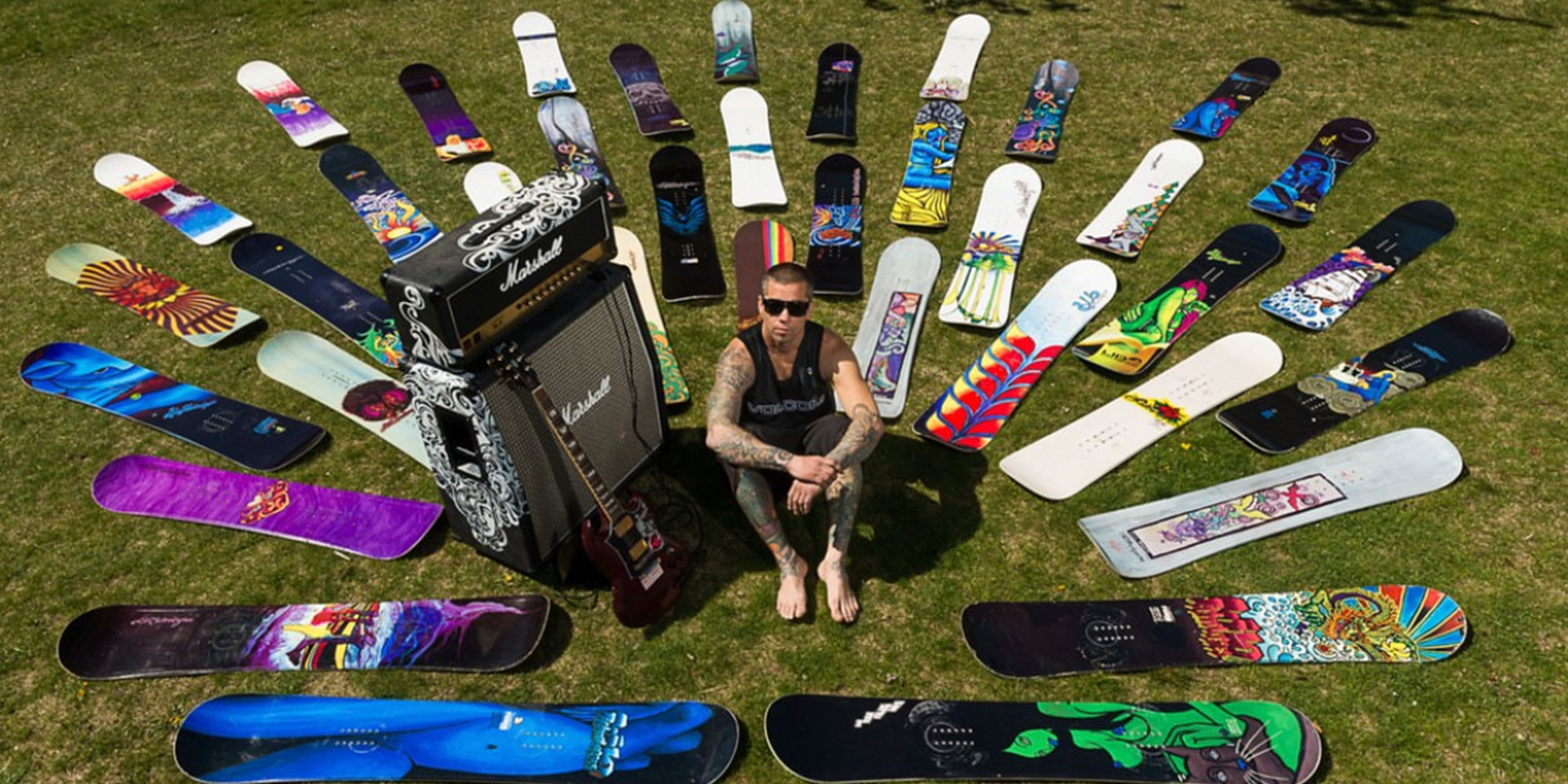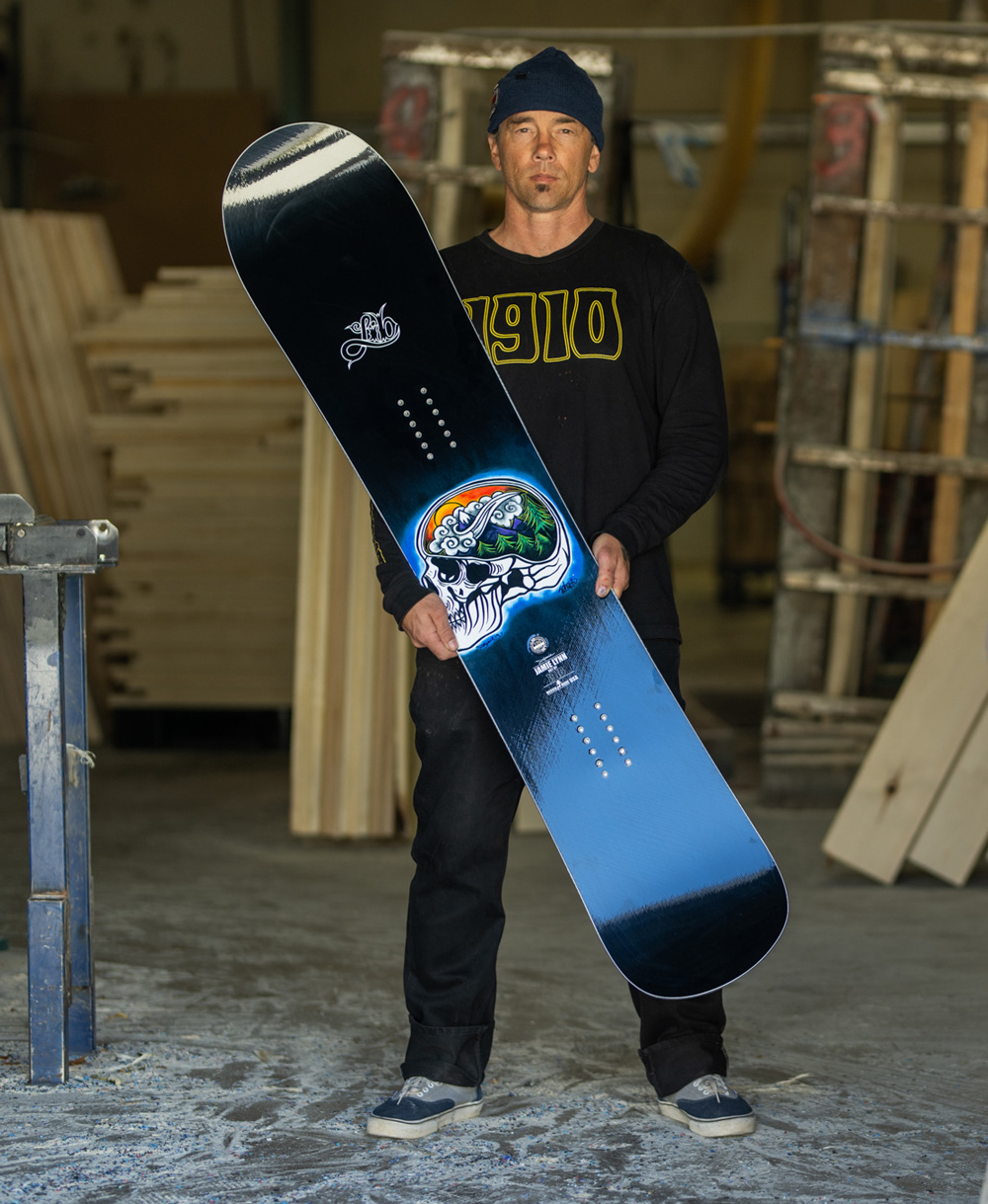 In the early 90's Jamie Lynn joined on to Lib Tech quickly separating himself with his signature style of power freestyle snowboarding and he quickly became a global snowboard super star.
His art progressed along with his snowboarding creating a timeless look and style for himself and Lib Tech, both on hill and on canvas that many up and comers emulate to this day.
---
1996
OFFICIAL LIB TECH SKATE LAUNCH
10 years after we introduced the first Lib Tech snowboard we came up with a glass-reinforced skateboard construction making decks stronger, lighter and poppier. These Cockroach Construction decks last 3-4 times longer than a traditional skate deck and never lose their pop!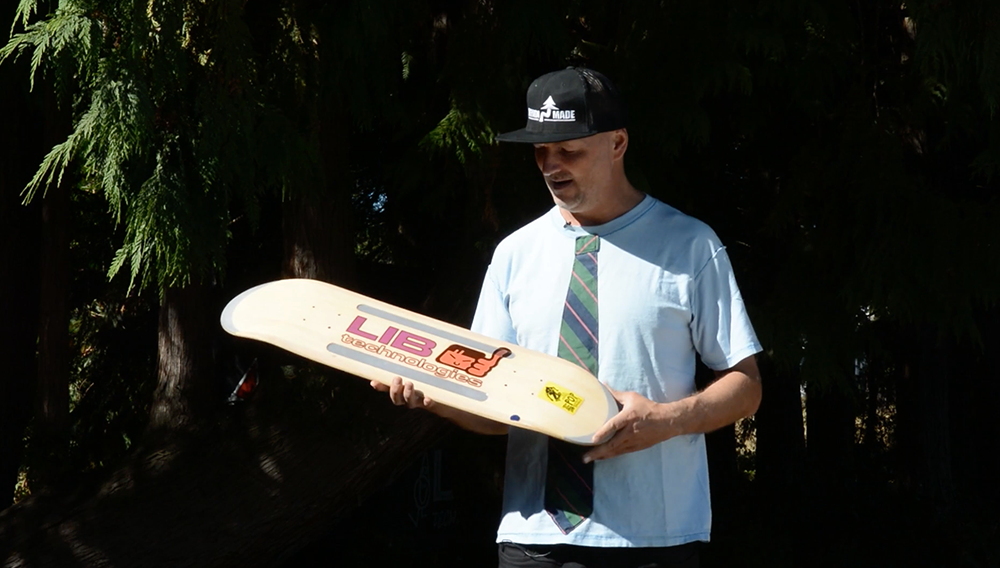 ---
2004
THE BIRTH OF MAGNE-TRACTION® SERRATED EDGE TECHNOLOGY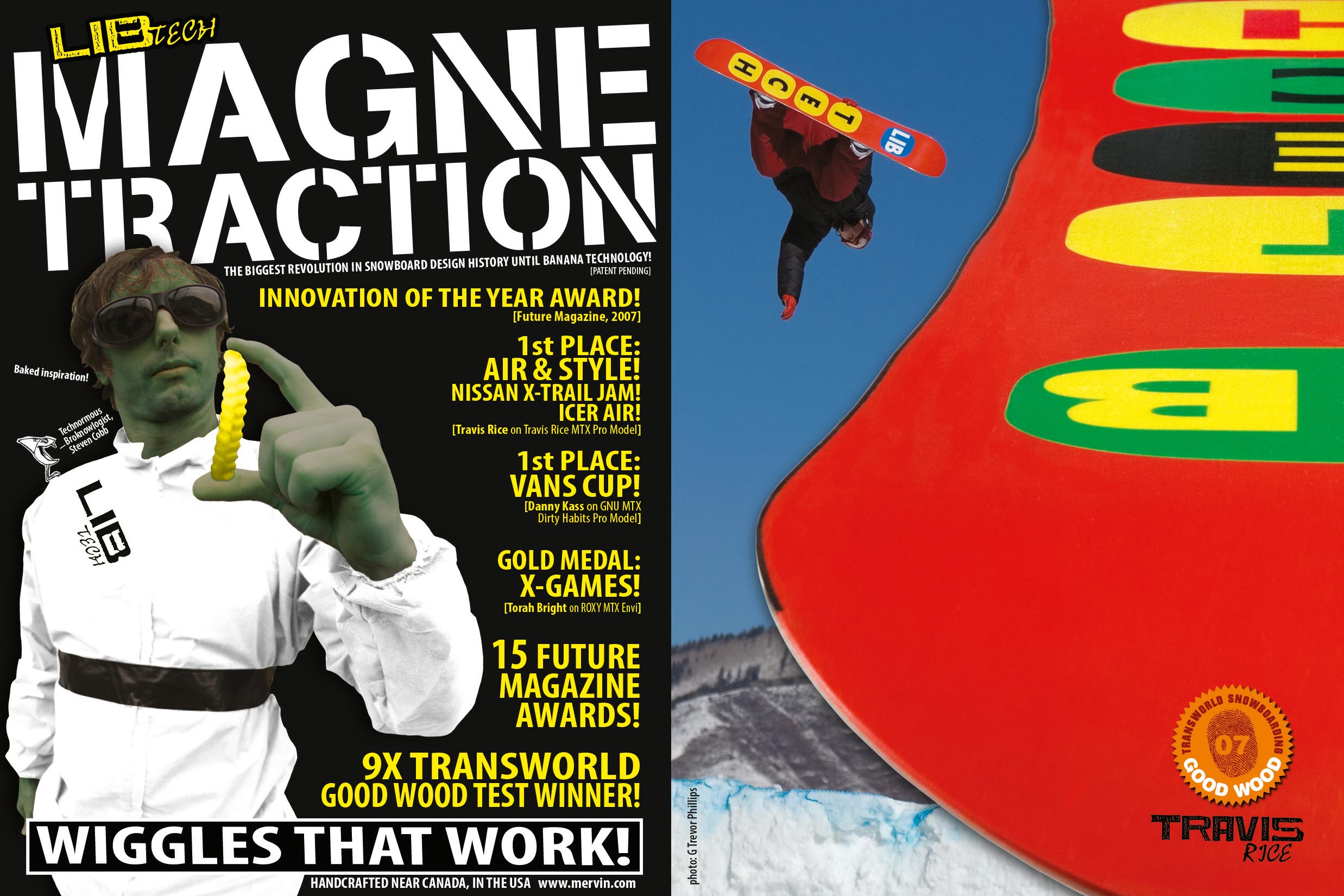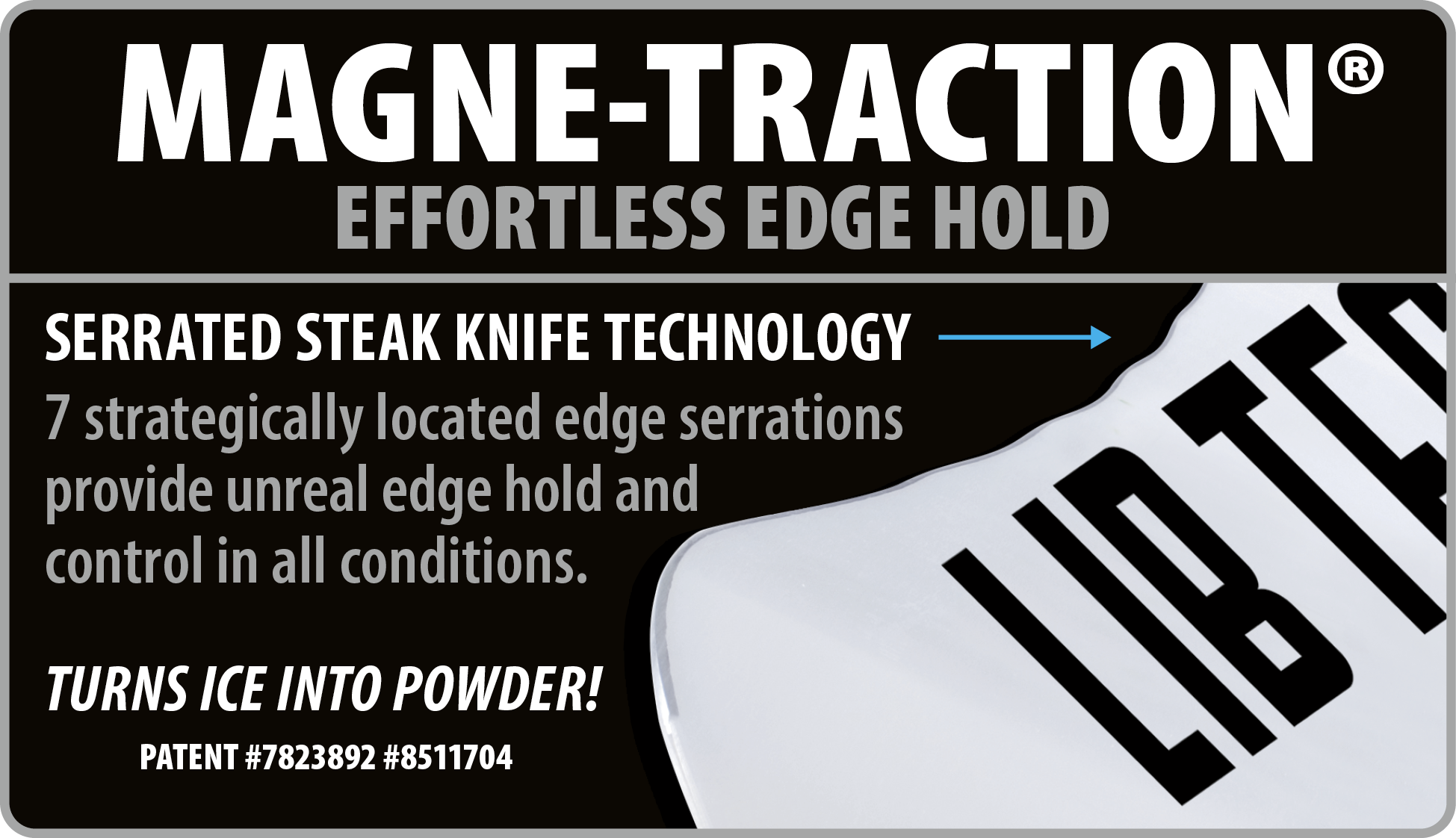 Steven Cobb and the Lib Tech ExperiMENTAL Division followed their baked inspiration discovering the ground breaking edge hold of Magne-Traction® serrated edge technology.
Now armed with 7 main contact points Lib Tech boards delivered edge hold and control the likes of which snowboarding had never seen… it felt (and still feels) like turning ice into powder!
2004/2005
TRAVIS RICE JOINS LIB TECH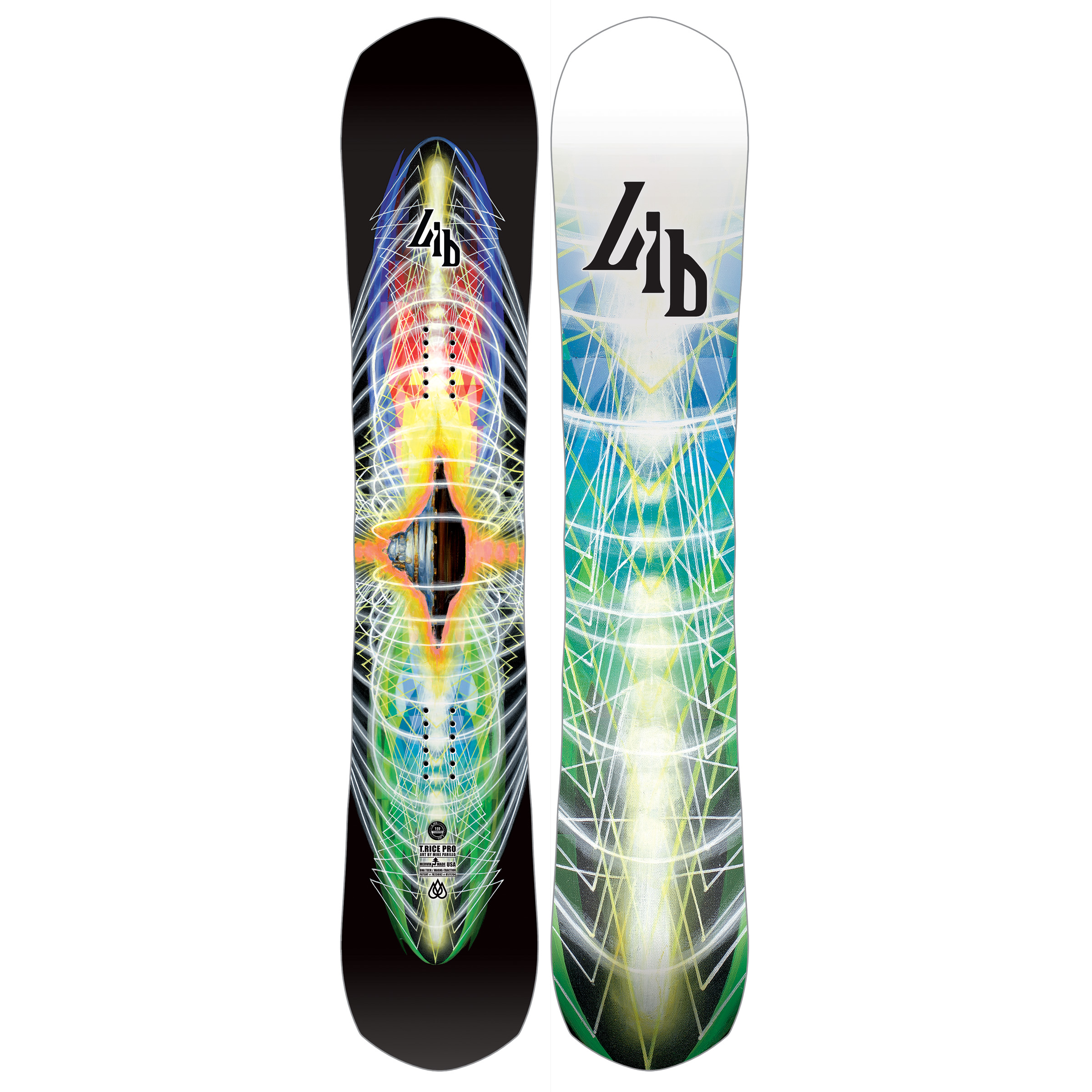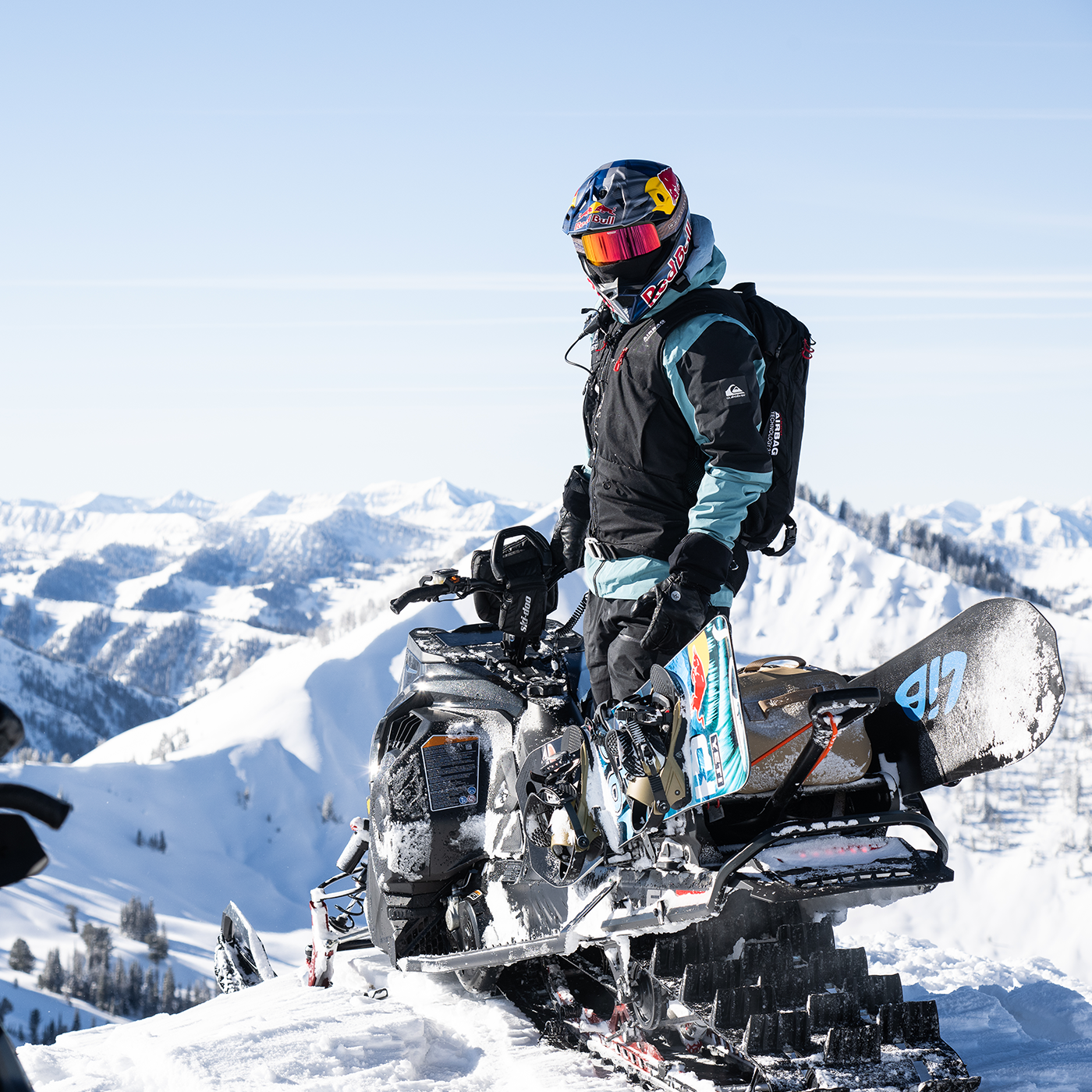 In 2004 once in a generation athlete and snowboard visionary Travis Rice was looking for a new board sponsor and the rumor was he liked the cut of our jib!
His joining on to Lib Tech started a decades long partnership of dream boards and dream projects. Boards like the power chassis T.Rice Pro and the industry chomping Orca brought to life in blockbuster films like The Art of Flight and The Fourth Phase.
It's been an absolute honor to be working with Travis on the boards he wants and needs under his feet as he chases snowboarding's biggest dreams.
CHECK OUT TRAVIS'S LATEST LINE OF DREAM BOARDS FW23/24
2005
INTRODUCING LIB TECH SKI
Mike and Pete grew up skiing, surfing and skateboarding. They found snowboarding early on but never gave up their love for the proto snow sport. With that love in tact and plenty of requests from close skier friends Lib Tech Ski was born.
It launched as N.A.S (Narrow Ass Snowboards) and featured a ski ready version of Magne-Traction®.
2006
THE SKATE BANANA REVOLUTIONIZES SNOWBOARD CONTOURS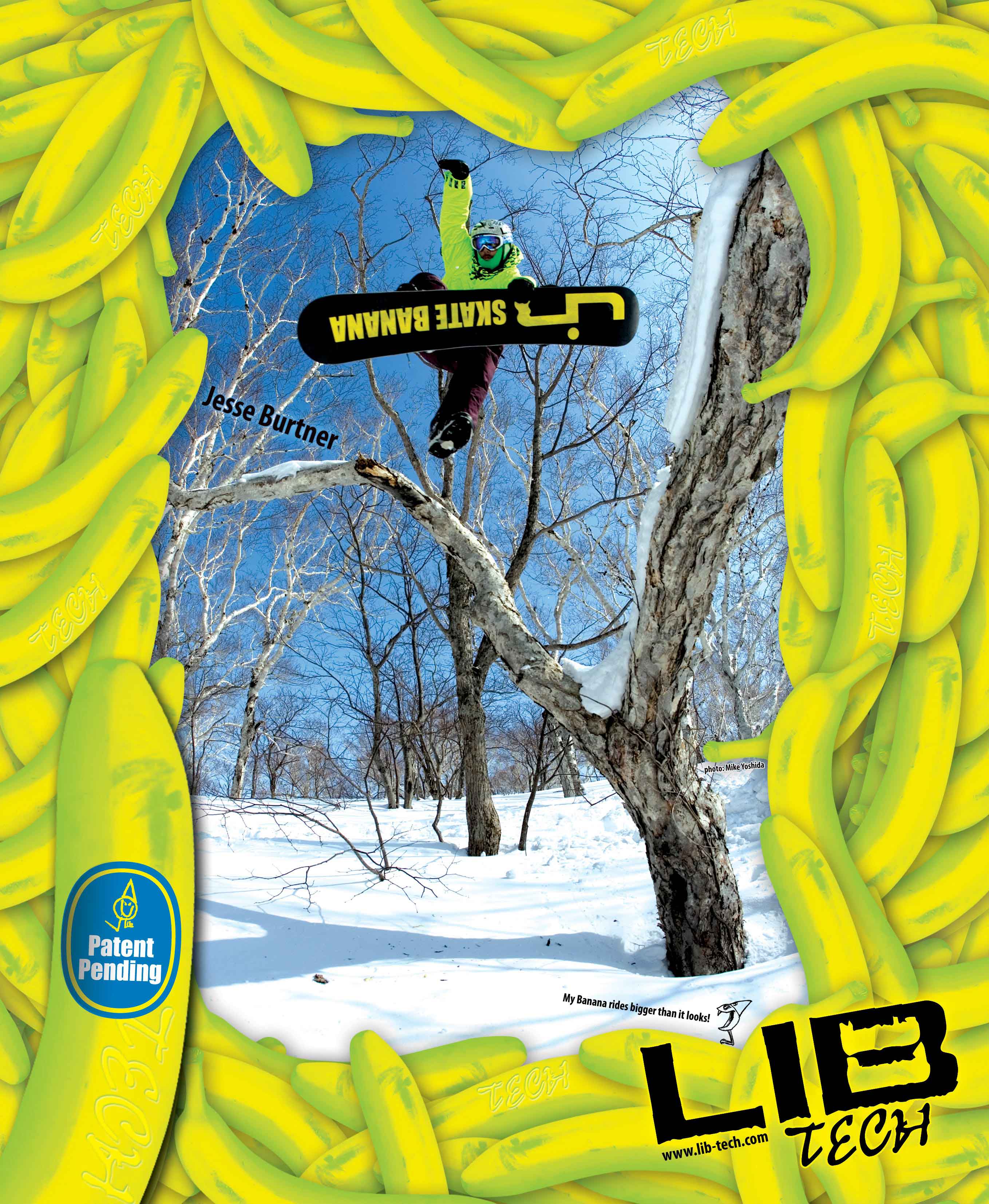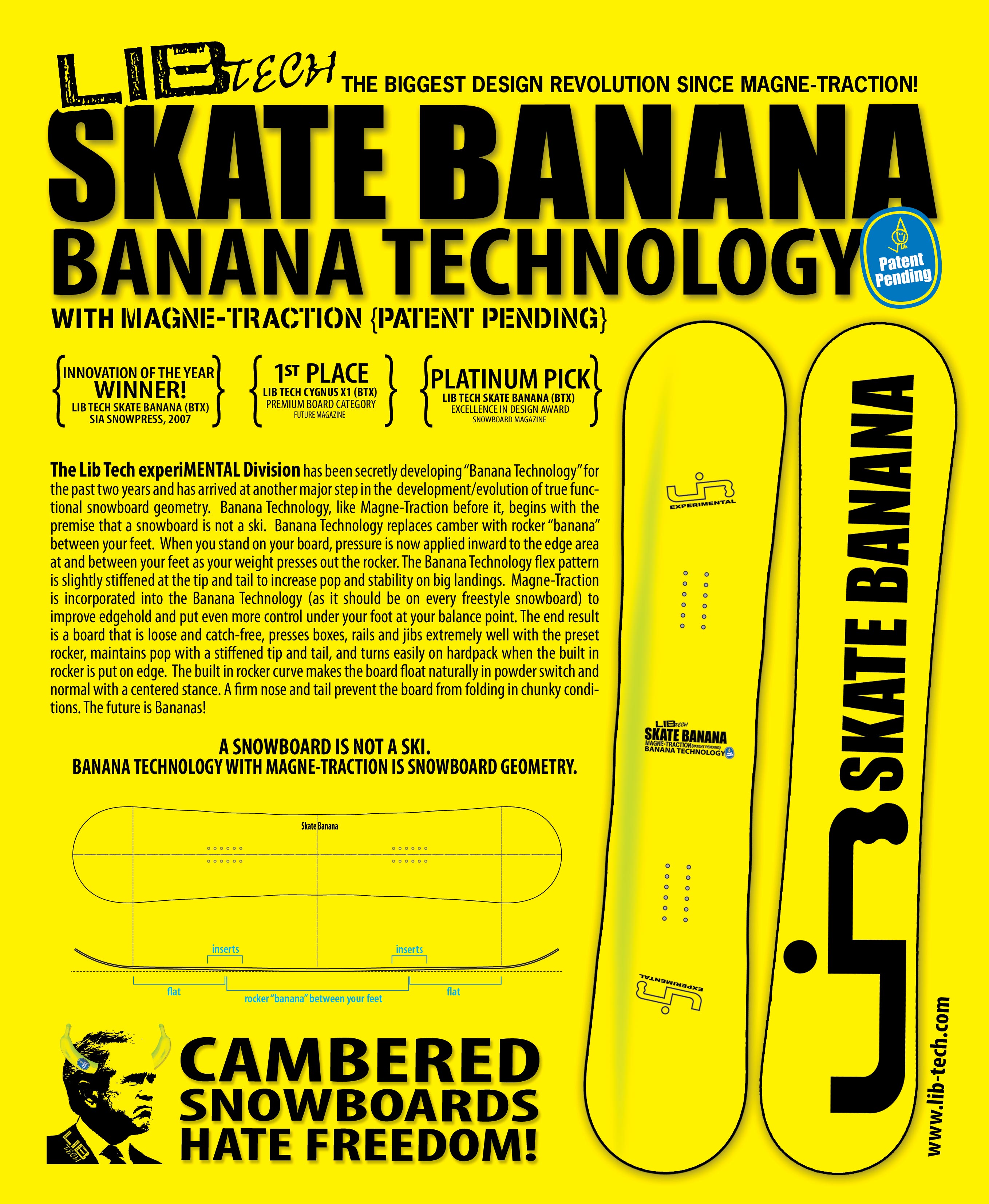 During a time when snowboarders only knew ski mimicking full camber boards Pete Saari and the Lib Tech ExperiMENTAL team were cooking up a revolutionary concept of rocker between the feet that would literally turn snowboarding upside down.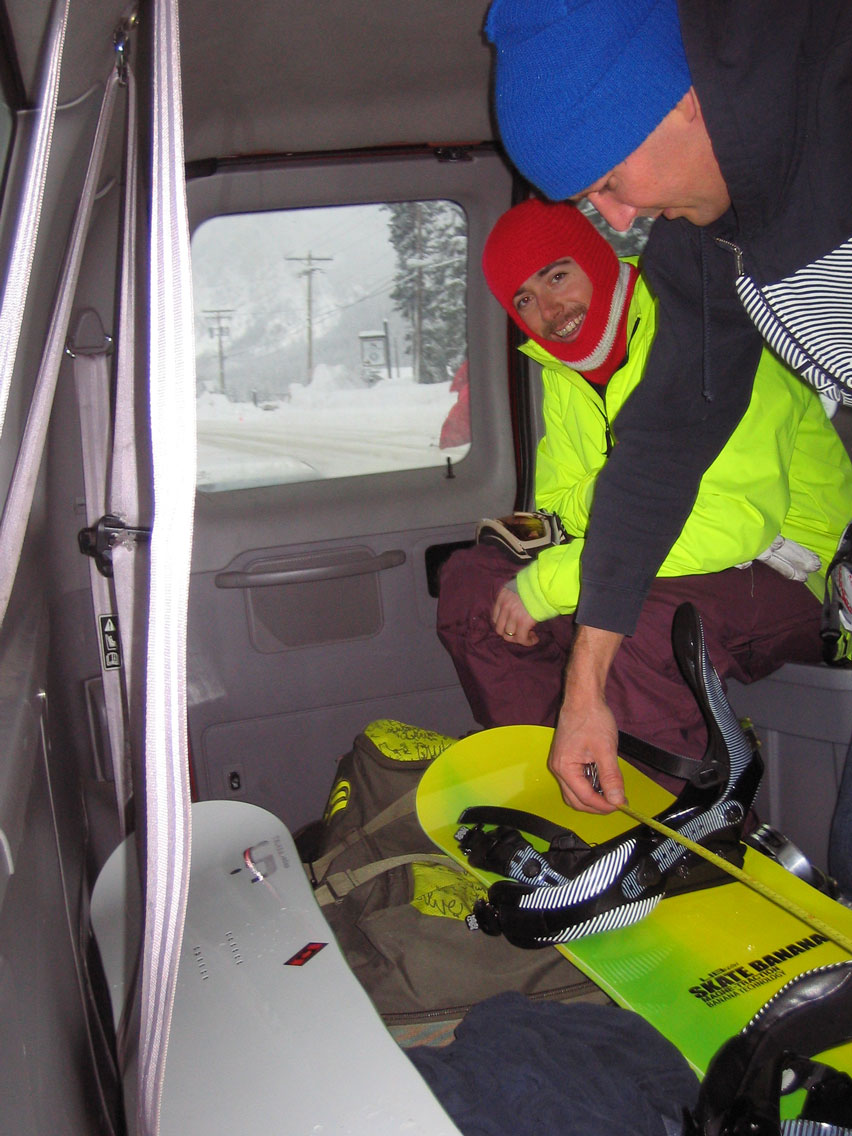 Check the staaaaahnce! Pete pulls Jesse Burtner into his van a proto Banana test session at Snoqualmie.
The Skate Banana launched small as a one board experiMENTAL test project but caught on quickly with it's effortless trenched carving, lighting fast reaction times and overall feeling of freedom that maximized the fun in everyday snowboarding.
The board skyrocketed and the tech spread throughout our line with a myriad of rocker between the feet + cambers under the foot variations. This hybrid camber tech combined with Magne-Traction® gave Lib Tech riders a distinct advantage on hill catering to the specific needs of different terrains, riding styles, experience on a snowboard and personal preferences.
Learn more about our contours here.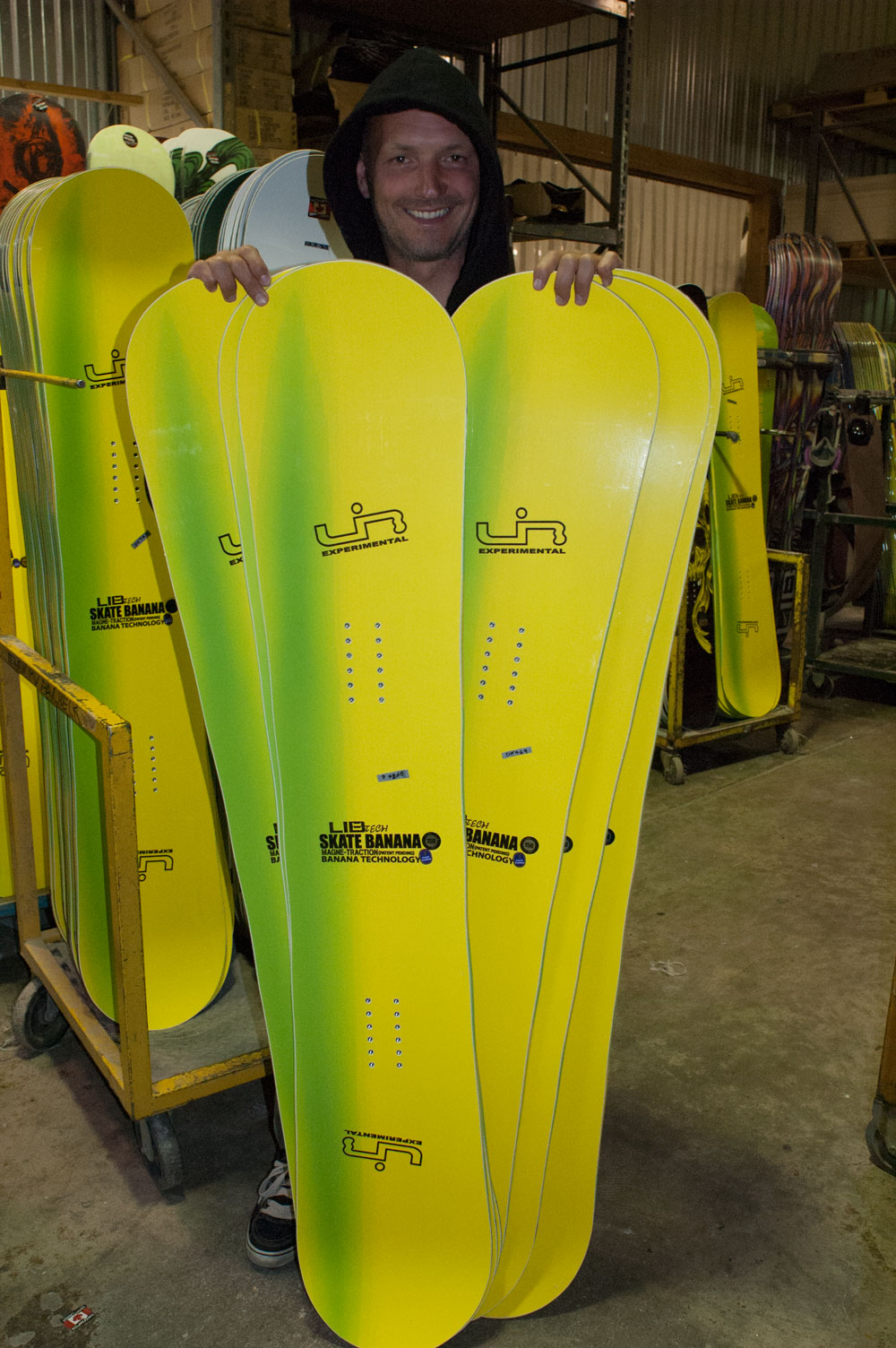 Pete with a fresh bushel of the original Lib Tech Skate Banana.
2012
MIKE OLSON UNVEILS LIB TECH SURF
Mike Olson spent decades surfing, shaping and obsessing over alternative, high performance, environmentally friendly materials and constructions.
After 10 years of serious product development he was ready to unveil the Lib Tech Surf, ecoIMPACTO project, a revolutionary surfboard construction that is stronger, more durable and environmentally nicer than any other surfboard construction on the market.
EcoIMPACTO completely rewrote the book on surfboard construction and continues to evolve today into lighter, stronger, more responsive iterations that are still "dang difficult to ding"...
#DangDifficultToDing #EnvironMENTALlyNicer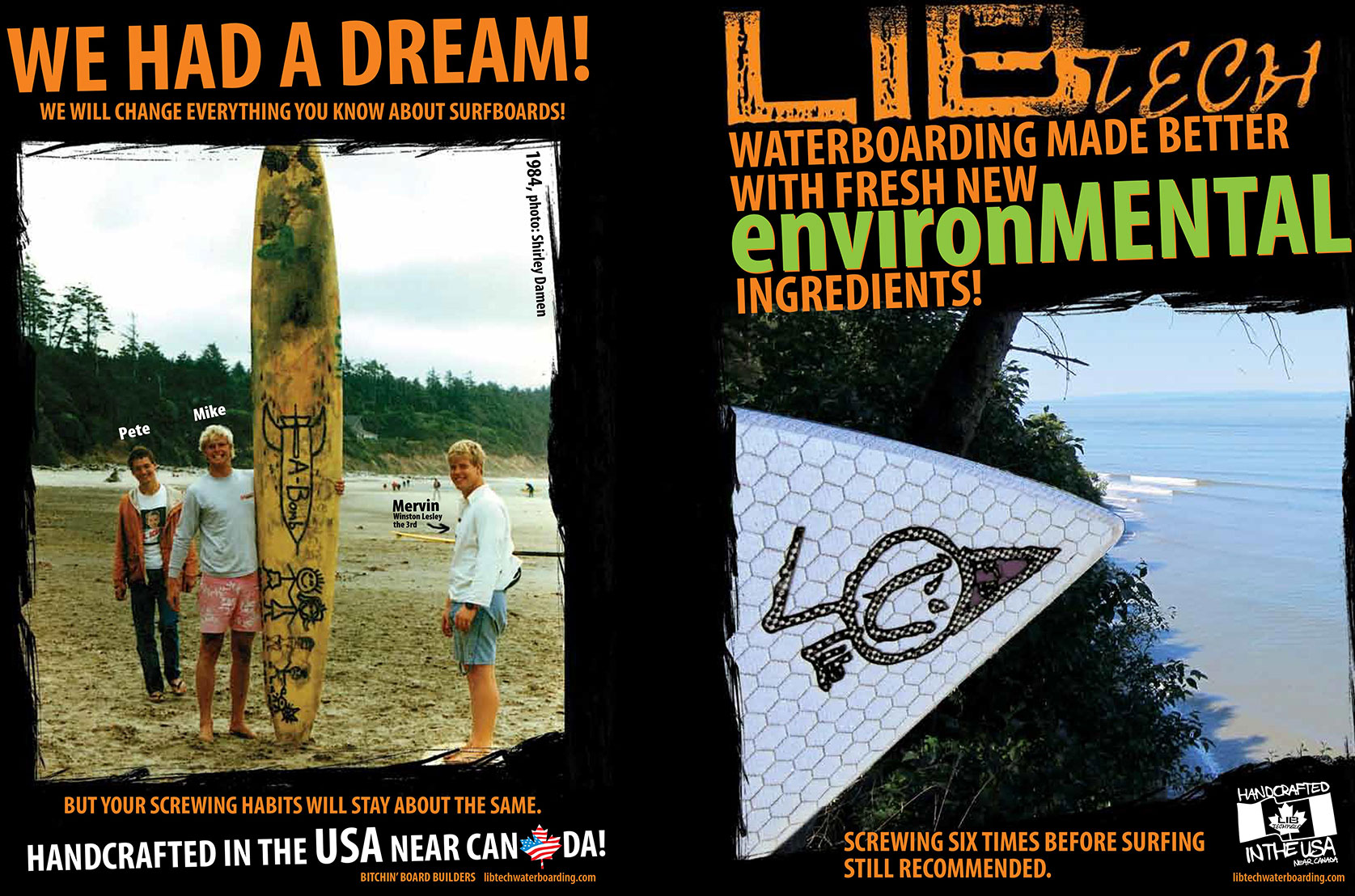 2015
LIB TECH X MATT "MAYHEM" BIOLOS
Matt Biolos's high performance surfboard shapes and his world class, dysfunctionally progressive surfing program have always been inspiring for us. ...Lost has always felt like our sister company.
In 2015 a dream became reality when we teamed up to bring Mayhem shapes to life in our ecoIMPACTO construction. Not only a legendary surf shaper but also a frothy snowboarder and Mammoth Mt. local, Biolos also brought his shaping prowess to the snow designing a line of Lib Tech snowboards with timeless curves, wall hanging art and powerful all mountain capabilities.
Our first collab board ever – the Lib X …lost Puddle Jumper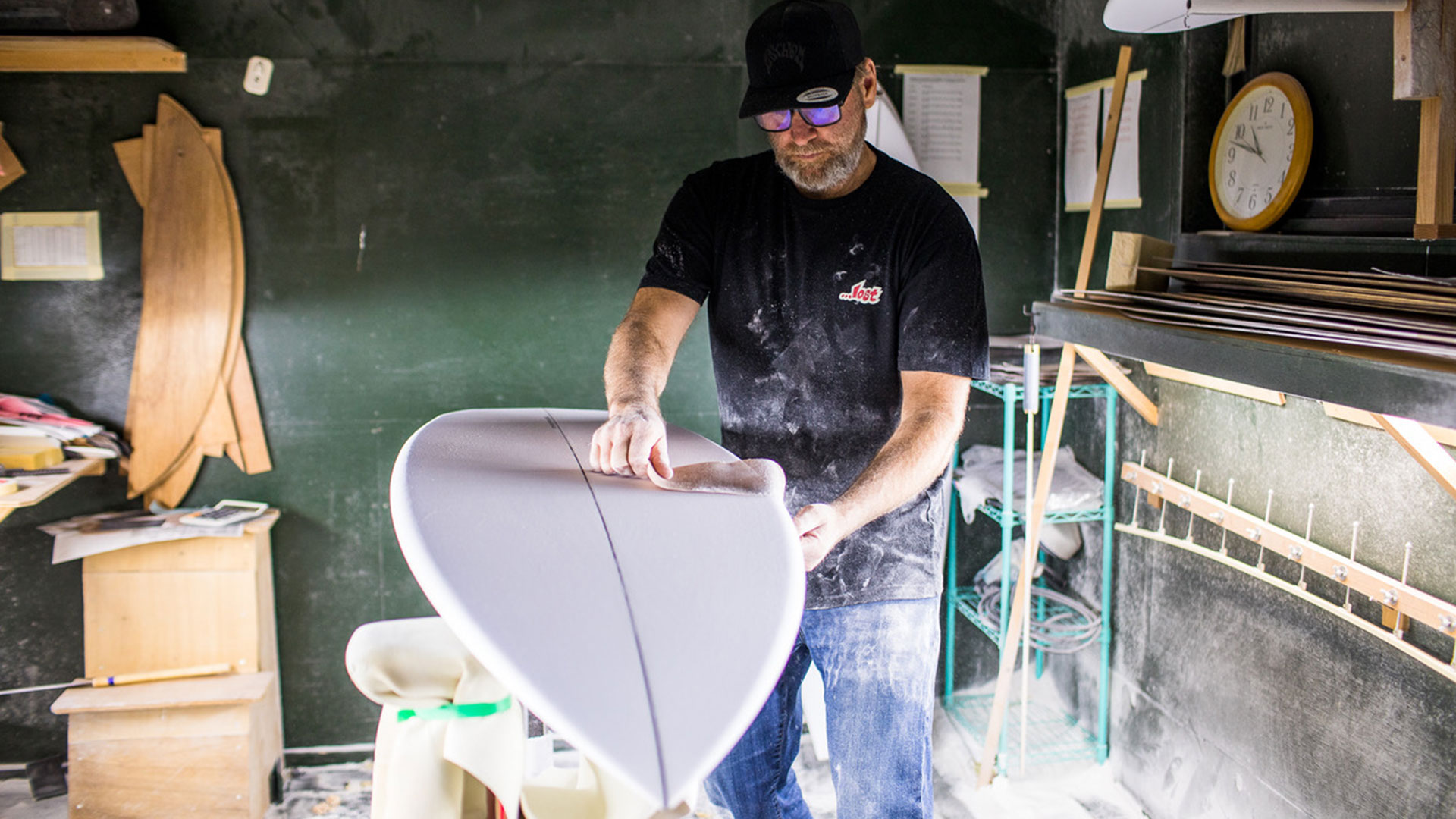 Matt "Mayhem" Biolos tut das, was er am besten kann. Die besten Boards der Branche shapen
2018
THE ORCA: NOT YOUR GUTLESS FISH!
Travis Rice had a dream… to make a short, wide powder predator of a board that didn't give up on the groomers. Something with teeth, that could still snap an ollie off a cat track…an Orca! After two years of discussion, drawing, testing and Orca Tail tweaking we released it and it took off faster than a Salmon chased by J-pod!

"Mit der Whale-Tail-Technologie des Orca, einer Art von vom Skateboard inspiriertem Kicktail, bekommst du alle Vorzüge eines traditionellen Fishs, und alles was an einem Standart Fish Shape nervt haben wir behoben.
Es ermöglicht dir, ein kürzeres, setback Board zu fahren, das traumhaft im Powder floatet, ohne Kompromisse bei Pop, Ollies, Verspieltheit oder dem Switch Fahren eingehen zu müssen." (Travis Rice)
A couple of years into the Orca project we partnered with the Orca Conservancy (www.orcaconservancy.org). An organization committed to the recovery of the Southern Resident killer whale population and protecting the wild places on which it depends. A portion of sales from every single Travis Rice Orca snowboard sold goes to support their important work.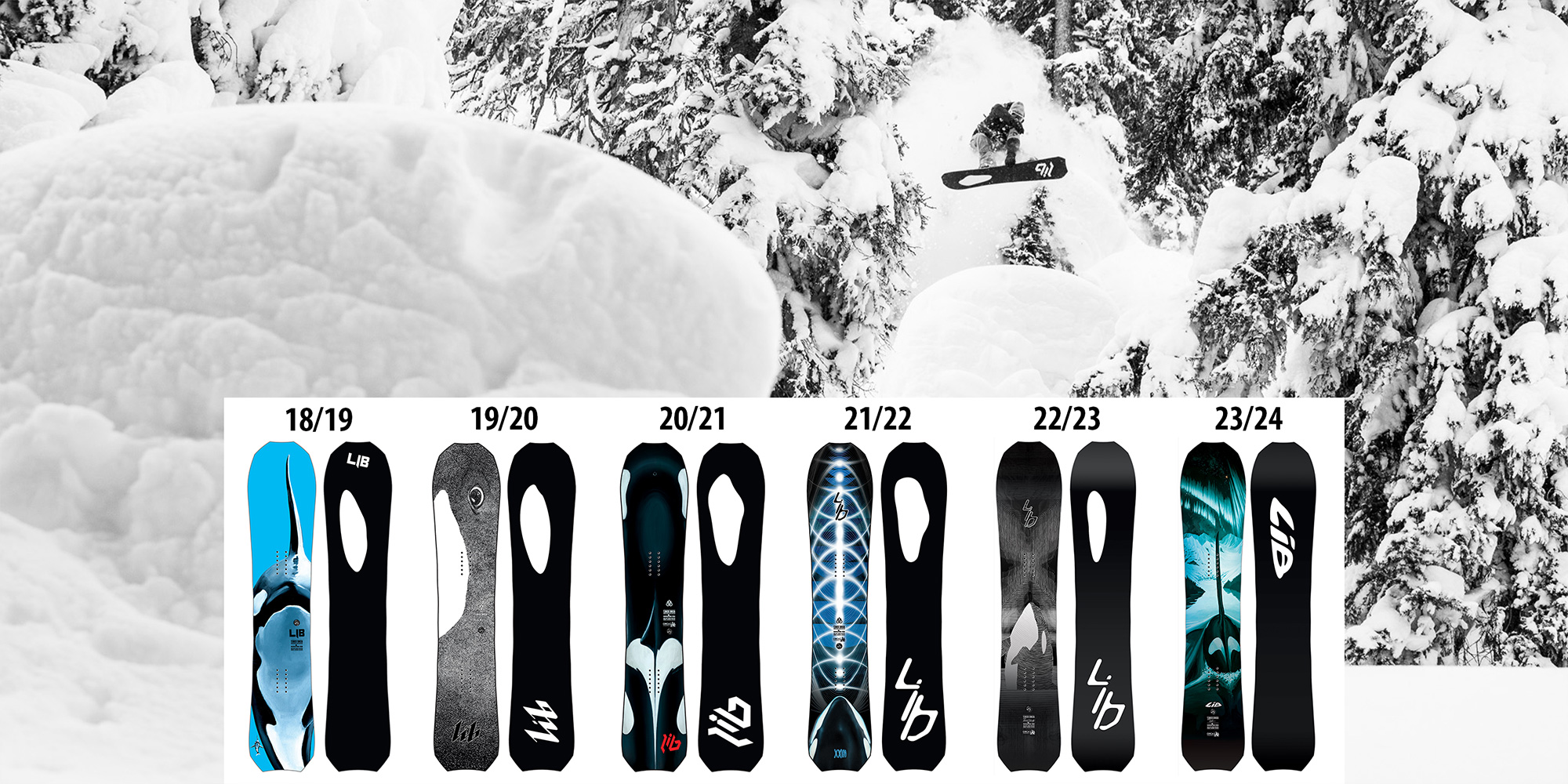 2019
INTRODUCTION OF LIB TECH RRIP'S SURF FINS
Since Every surfboard in the world is basically an oval shape cut out of rectangular fabrics, why couldn't we save the unused corners of our surfboard fabrics and make high performance up-cycled fins out of them? We could and we did!
Rubbish morphed into fine foiled fast fins!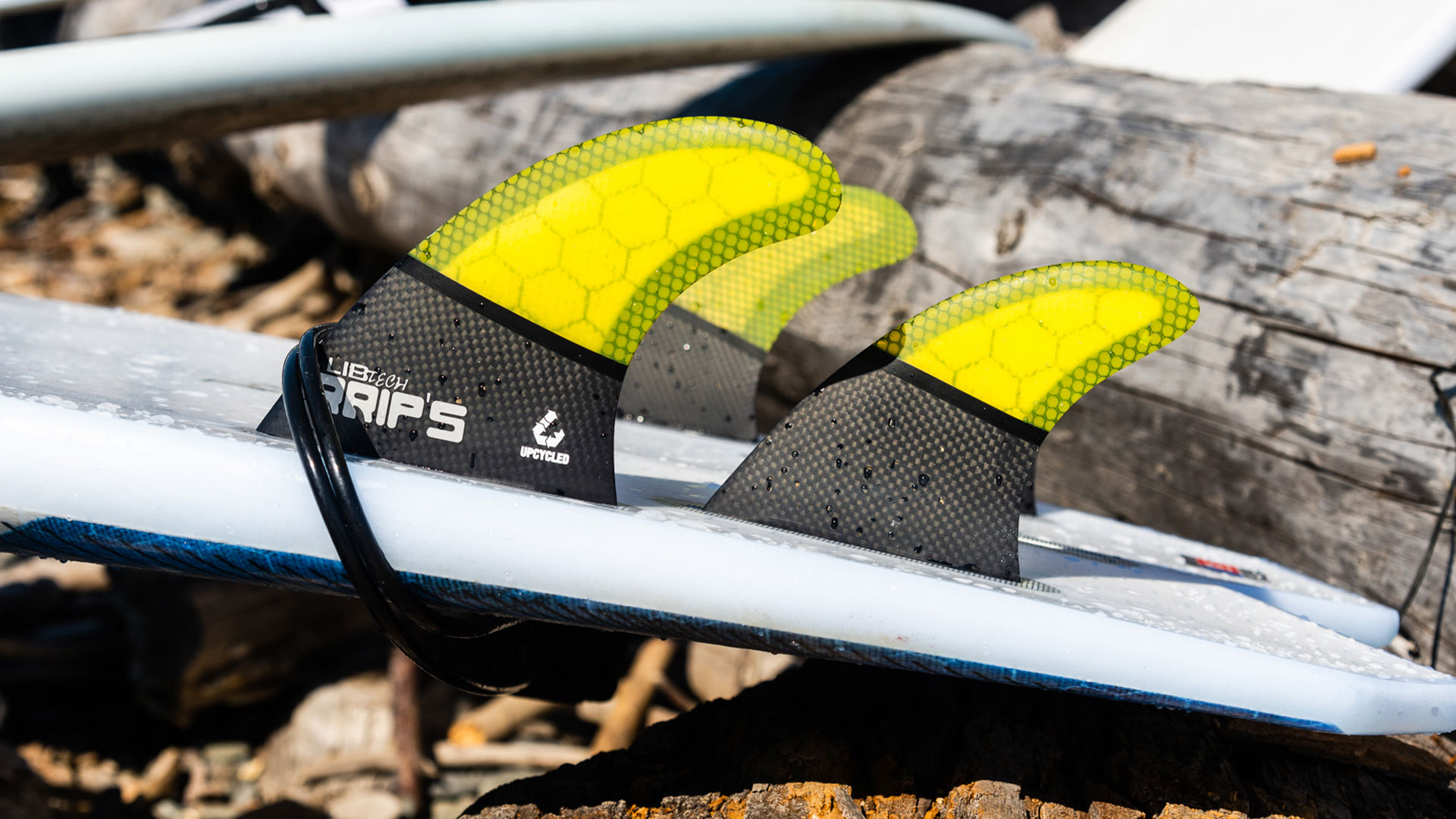 2022
TECHNO POP SURFBOARD CONSTRUCTION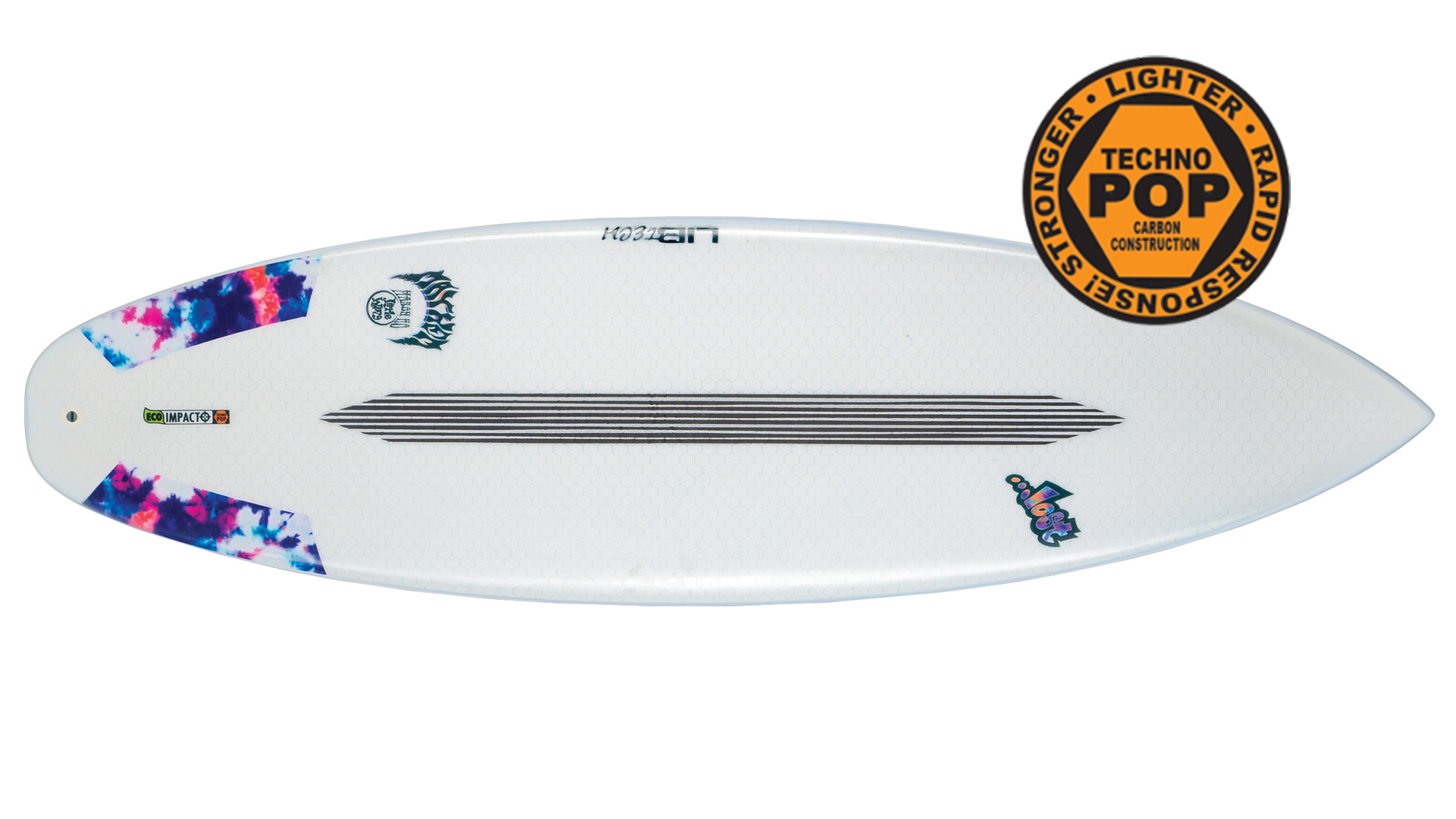 Our constant quest for high performance has led us to Techno Pop. The lightest and most responsive update to our ecoIMPACTO construction yet.
The process is top secret but includes a new ultralight "Techno Treated" performance enhancing upgrade to our Thermo Fusion Honeycomb power panel and precision flex tuning with 8 bands of spread tow carbon on top and bottom.
Still "dang difficult to ding"!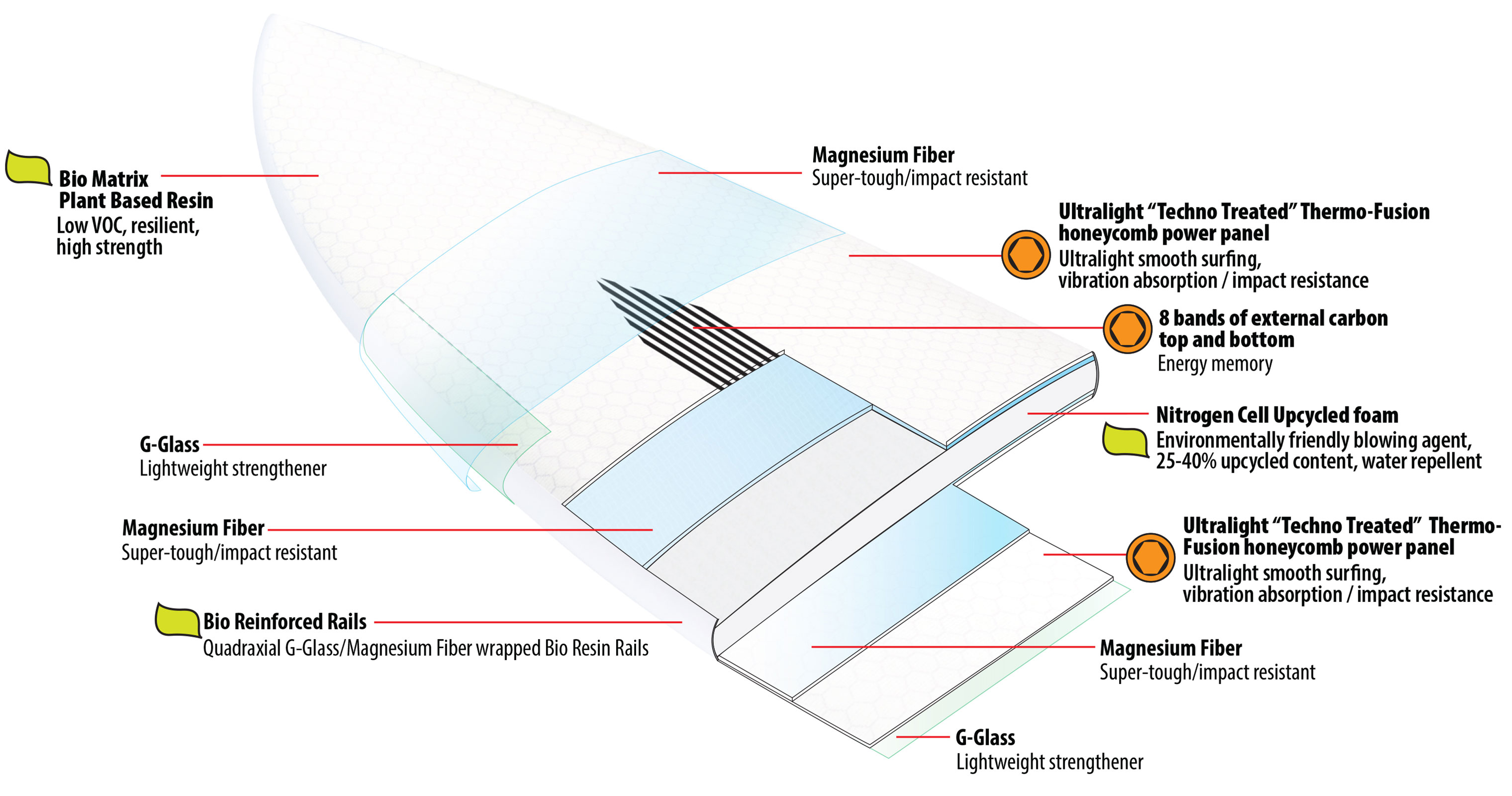 ---
2023
TECHNO POP SNOWBOARD CONSTRUCTION
Although first applied to Lib Tech surf Mike Olson always saw the possibilities for Techno Pop construction on a snowboard.
This ultra light, ultra snappy carbon construction was perfect for Travis Rice's pinnacle performance model the Apex Golden Orca with him and Mike even collaborating on the lightest swing weight ever with the knocked out "Anti Matter" 3-D tips and tails.
This is the most space age Mike Olson genius composite construction possible… so far…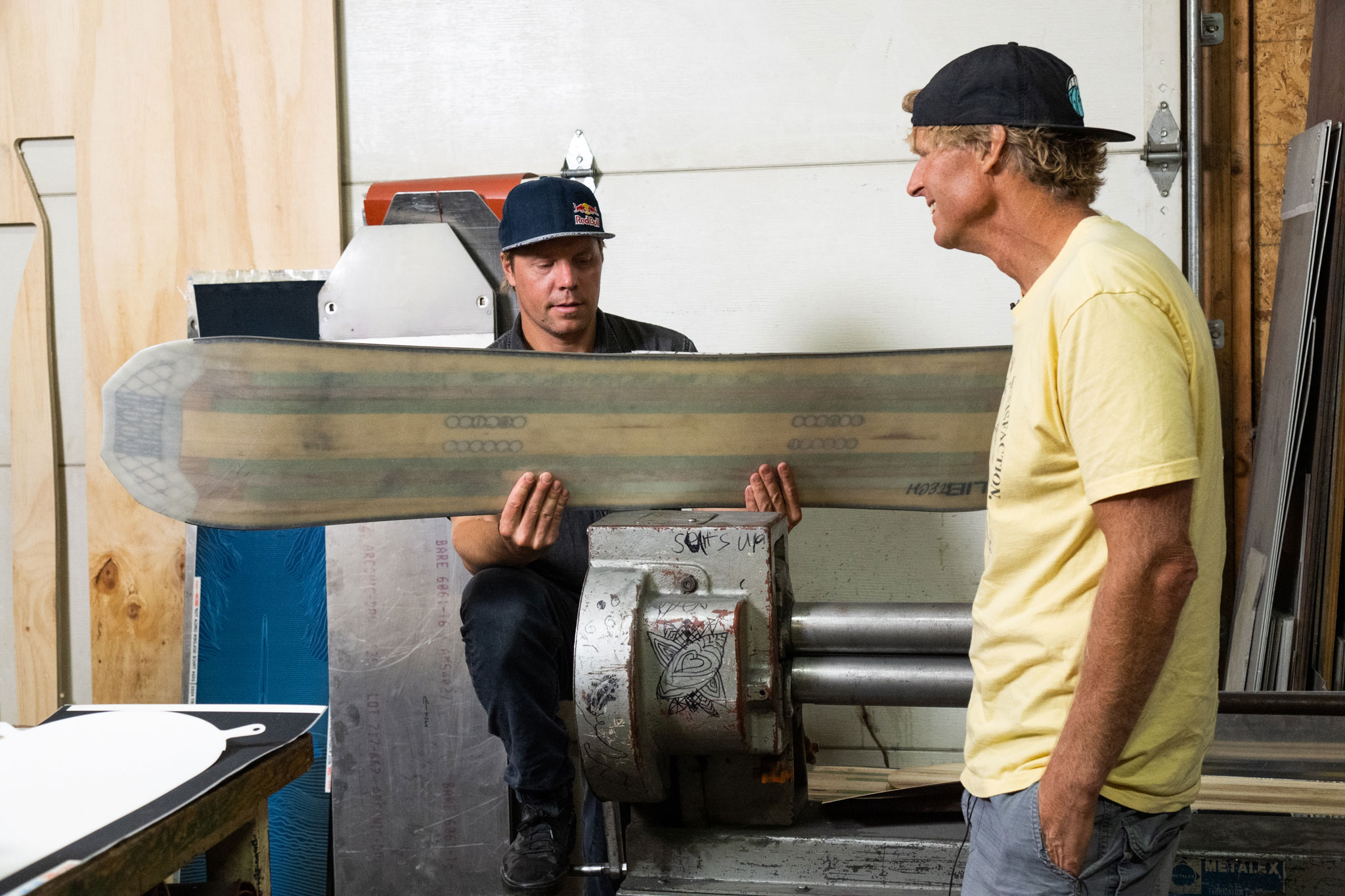 LEARN MORE ABOUT OUR 23/24 PINNACLE TECHNO POP MODELS
UND UNSERE REISE IST NOCH NICHT AM ENDE.
WIR EXPERIMENTIEREN WEITERHIN JEDEN TAG IN UNSERER TRAUMFABRIK, AN EINER TRAUM LOCATION UND BAUEN TRAUMBOARDS AUS TRAUMMATERIALIEN.